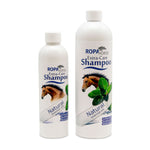 RopaHorse Shampoo for gentle cleaning and grooming of the coat. Based on a natural ingredient, RopaHorse Shampoo removes dirt, stains and unpleasant smells, without damaging the natural protective fatty layer on the horses skin.
The protective substances in the shampoo will keep the skin and the coat healthy and reduce the chance of itching, dehydration or other skin irritations. 


Benefits

• Thorough cleaning and grooming 
• Usefull for all types and colours of horses. 
• Usefull for several skin conditions. 
• Protective against bacteria and molds.


Effect

The antibacterial characteristics of the ingredients protect the skin against bacterial infections, which makes this shampoo a suitable product for the treatment of superficial wounds. The natural plant extracts protect the skin against bacteria and molds, and reduce nuisance from flying insects. The coat will feel soft and obtain a shiny gloss, which will make your horse look fantastic!

Recommendation in case of skin disorders: Clean the affected area with RopaHorse Shampoo. Afterwards, apply RopaHorse Wound spray or RopaHorse Ointment.